Welcome
McHenry County Chapter 
,Join our network of women who want to be invested in empowering nonprofits and improving our communities. No committees, no fundraising, no event planning, no silent auction. We will meet quarterly on the third Wednesday in February, May, August and November.
Each member's annual commitment is $400.00 with payments of $100.00 per meeting.
Upcoming Meetings
Our Upcoming In-Person Meeting is:
Wednesday, May 17, 2023 at 7pm
Join us for pizza and fellowship at 6:30pm!

NEW LOCATION! Buddyz Pizza
1138 N Green St, McHenry, IL 60050
www.buddyzwindycitypizza.com
Presenting Charities:
Our February 2023 grant went to
Main Stay Therapeutic Farm –

mainstayfarm.org
2023
We meet on Third Wednesdays once per quarter:
February 15, May 17, August 16 & November 15
Registration & Fellowship: 6:30-7:00pm
Charity Presentations & Voting: 7:00-8:00pm
Location: Buddyz Pizza – 1138 N Green St, McHenry, IL 60050-5703
Any member can nominate a charity in McHenry County that serves the under-resourced and is a designated 501(c)(3) tax-exempt organization.
For more information, contact:
Jill Payne 847-693-8911 or Sarah VanDerLip (847) 226-6370
TLS Veterans
Providing services for veterans in need
www.tlsveterans.org
Youth and Family Center of McHenry County
Growth for youth and families
www.yfc-mc.org
Gigi's Playhouse
To change the way the world views Down syndrome and to send a global message of acceptance for all
gigisplayhouse.org
Hearts for Hope
Unite as a community to exude compassion and encouragement by delivering care packages to those in need
www.hearts-for-hope.com
The Ruth Project
Support for foster and adoptive families and every child in their home
ruthproject.com
Give Online
Make Your Quarterly Contribution
If you are unable to attend, the group still depend on your donation commitment to the selected charity. Please be sure to make your contribution by sending a check with another member to the meeting, or mailing a check immediately after the meeting. You can also make a payment to the selected charity through our Community Purse Giving Fund at the National Christian Foundation by clicking the button below.
*Please note: We request that a $3.00 handling fee be added for online credit card donations ($103).
For account transfer donations, there is no fee.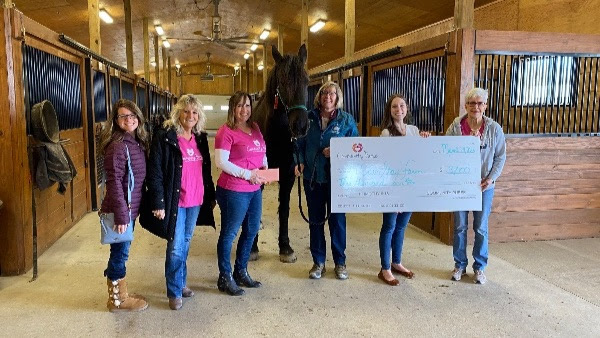 Our February 2023 grant was awarded to the Main Stay Farm, an organization that meets the growing need for adaptive horseback riding in the area. 
Gallery 
Photo Gallery
Check out photos from our recent meetings!