Welcome
Dane County Chapter 
Join us for our quarterly Wednesday 2023 meetings!
February 8, 2023

May 10, 2023

August 9, 2023

November 8, 2023
2024 Meeting Dates: 
February 21

May 15

August 21

November 20
Location: Nitty Gritty
315 E. Linnerud Drive, Sun Prairie, WI
Invite a friend and have dinner prior to our meeting time to support our sponsor
Registration & Fellowship Time: 6:30-7:00pm
Meeting: 7-8pm
 Guests are welcome to attend the meeting. If they would like to vote, they will need to fill out a commitment form prior to or at the beginning of the meeting.
Any member can nominate a charity in Dane County that serves the under-resourced and is a designated 501(c)(3)

For more information, contact Julie Speth (608) 469-2176,

[email protected]
6:8 Making Service Personal
6:8 is Working to End Poverty by Inspiring and Equipping Families and our Community to Resolve Poverty and Thrive. We believe no one should live in poverty and if given the right tools and support, financial stability can be achieved. Our service Prioritizes; Relationships, Education, Reciprocity, & Quality.
Affordable Dental Care
Our mission is to restore hope, health, and opportunity through quality dentistry to the uninsured and the underinsured population in a nonprofit, partner-powered model that treats any individual who has put off dental care due to financial, physical or educational hardship.
www.affordablesmiles.org
Autism Society of South Central WI
Dedicated to improving the lives of all who are impacted by autism by providing information, resources and support, while raising awareness and acceptance in our community.
www.autismsouthcentral.org
Babies & Beyond of WI, Inc.
Babies & Beyond journeys with women and families through the challenges and joys of pregnancy and early childhood by providing life-affirming compassionate support, sharing materials and creating community connections.
babiesandbeyondwi.org
Cambridge Area Resource Team (CART)
CART strives to provide confidential assistance that brings together resources to our neighbors in our local Cambridge community to help meet their basic human needs and find stability. Areas of focus include accessing health care and food, finding and maintaining adequate housing, transportation including car repair, advancing education, money management, and employment. We serve adults and families who reside within the Cambridge School District boundary. We serve approximately 100 households each year.
www.cartforhelp.org

Care Net Pregnancy Center of Dane County
We provide physical, emotional, and spiritual resources to those who may face an unexpected pregnancy by modeling Christ to all we serve.
https://friends.carenetdane.org/
https://www.elizabethhousedane.org/
https://firstcareclinic.org/
Collaboration Project
We exist to help the 320+ churches in Dane County better serve the greater community. We do this by finding common ground areas for the common good.
www.collaborationproject.us
Extended Hands Pantry
Extended Hands Pantry serves our area families and individuals with compassionate acts of love. We seek to encourage, educate, and nourish our children as a servant-hearted expression of Jesus Christ.
www.extendedhandspantry.org
Every Daughter
Every Daughter is a group of women from Dane County churches who meet regularly to contact and offer assistance to women who are sexually exploited & trafficked in our community. We  provide ongoing support and care for the women we meet through prayer, relationship and problem-solving.
everydaughter.com
Felicia's Donation Closet
Felicia's Donation Closet is partnered with Shelter from the Storm Ministries, a homeless shelter in Sun Prairie, for Domestically Abused mothers and their children. We locate and deliver essential household items (furniture, beds. tables, chairs, clothes, toys . . .etc) for these families as they transition from the shelter into their own apartments.
Fellowship of Christian Athletes – Stoughton
To see the world impacted for Jesus Christ through the influence of coaches and athletes. To present to coaches and athletes, and all whom they influence, the challenge and adventure of receiving Jesus Christ as Savior and Lord, serving Him in their relationships and in the fellowship of the church.
www.fca.org
Fort Littlegreen Gardens, Inc.
To provide high-quality nature-based education and daily care to the grade school youth of Stoughton. By teaching the knowledge of self-sustained living, organic growing, and environmental science, we can instill a love of nature for their lifetime.
https://fortlittlegreen.com/   
Gigi's Playhouse – Madison
GiGi's Playhouse is a Down syndrome achievement center. We serve individuals with Down syndrome and their families from prenatal diagnosis to adulthood. GiGi's offers free therapeutic programming, which is research-based and customized for individuals with Down syndrome, to work toward advancing literacy, math skills, gross and fine motor skills, speech and communication skills, building self-esteem, and preparing for the workforce. Our goal is that each individual reaches their highest potential! We also focus on fostering acceptance and awareness of Down syndrome in the community.
www.gigisplayhouse.org/madison
Girls on the Run of South Central Wisconsin
Girls on the Run inspires girls to be joyful, healthy, and confident using a fun, experience-based curriculum that creatively integrates running. We envision a world where every girl knows and activates her limitless potential and is free to boldly pursue her dreams.
www.girlsontherunscwi.org
Hope and a Future Inc.
Hope & A Future is an intergenerational community where individuals feel a sense of purpose and empowerment through caring for each other. We believe that every person has the right to live fully, happily, and with dignity at each stage of life.
hopeandafutureinc.org
Little John's Restaurant Inc.
The mission of Little John's Restaurant (LJR) is to increase access to nutritious chef-quality meals through our food rescue and food excess programs. We work with local grocers and farmers to rescue under-utilized food resources, and then turn those items into healthy meals for families. LJR believes that Food is Love and that good food should be available to everyone.
www.littlejohnskitchens.org
Lunch for Vikings
Lunches For Vikings is a volunteer-led program that offers free brown bag lunches to kids through 12th grade in the Stoughton Area School District who no longer have access to the free or reduced lunch at school. We provide bag lunches Monday – Friday for all 12 weeks of summer break. We prepare the lunches at the Stoughton Area Youth Center and distribute them at three sites around Stoughton. Lunches include a choice of four different sandwiches, a drink, vegetable, fruit, go-gurt or cheese stick, crackers and a granola bar.
www.lunchesforvikings.com
Madison Jail Ministry
The Madison Area Jail Ministry (MAJM) has been providing spiritual care in the Dane County Jail for over 50 years. Through the work of our chaplains and a dedicated team of volunteers we provide pastoral care to all those who live and work in the jail. Unlike prison, where people know their out date because they have already been sentenced, many in the county jail do not yet know the outcome of their case. This uncertainty produces a great deal of anxiety and stress. There is a tremendous opportunity to provide the hope and peace of the Gospel to those at the crossroads of their lives.    http://www.madisonjailministry.org/
Madison Reading Project
Madison Reading Project connects our community with free books and literacy resources that ignite a love for reading and affirm and reflect the diversity of young readers.
www.madisonreadingproject.com
Mikayla's Grace
To support families with a baby in the NICU (neonatal ICU) and those who experience the death of a child or pregnancy loss at hospitals in Wisconsin.
www.mikaylasgrace.com
Mothers Milk Alliance
Mothers Milk Alliance is an informed choice model of human milk sharing that facilitates donor lab testing, safety education and health screening, and accessibility to local infants up to 6 months of age. Donor milk is free.
www.mothersmilkalliance.org
Neighborhood Free Health Clinic
Neighborhood Free Health Clinic provides non-emergency care free of charge to any uninsured adults in Stoughton, WI and neighboring communities.
www.neighborhoodfreehealthclinic.org
PEP (Personal Essential Pantry)
Helping with the essentials of personal and household hygiene, showing God's grace and love through these tangible gifts. As we seek to engage and meet needs in the world around us, we've learned that families are able to supplement their groceries at area food pantries and, in some cases, through Food Stamp benefits. However, few resources exist for assistance with non-food essentials: household and personal products.
pepstoughton.org
RSVP of Dane County, Inc
To make a positive impact in the community by recruiting volunteers age 55 and older to help deliver priority services to people of all ages, providing Dane County with a valuable resource.
www.rsvpdane.org
Sable Flames Inc
​To provide, through the Jones-Robinson Scholarship Fund, financial help for low-income students seeking higher education. ​Promote the enhancement and unification of the Madison community. Promote and initiate cooperation between organizations in the Madison community. Improve and increase the number and status of present and future Black firefighters in Dane County.
www.sableflames.org

START
The Stoughton Area Resource Team, Inc. (START) provides a safety net for those in crisis. It links Stoughton residents under age 55 with community resources, offers advocacy, and provides support in housing, utilities, transportation, health and employment. Case management is offered as well professional life coaching and short term financial assistance when appropriate.
www.startstoughton.org
Sunshine Place
In the spirit of neighbors helping neighbors, Sunshine Place delivers food, clothing, and vital services to those in need.
www.sunshineplace.org
The River Food Pantry
The River's mission is to provide food, resources, and faith to build a stronger, fully-nourished community. In support of this mission, The River focuses its efforts on eliminating food insecurity among low-income and under-served communities.
www.riverfoodpantry.org
The Women's Place and Resource Center
The Women's Place and Resource Center (WPRC) strives to be a place where women can come post-crisis/ hard life events and receive spiritual, personal and professional development with the intention of improving their life situations.
www.womensplaceresourcenter.org
Three Gaits, Inc
Three Gaits' mission is to provide equine assisted services and therapies that enhance the lives of children and adults with a physical, intellectual and/or emotional disability or challenge.
www.three-gaits.org
Lake Waubesa Bible Camp
Summer youth overnight and day camp ages 5 – 18. Year-round retreat and special programs for church groups, schools, families, home school groups and individuals. Year-round opportunities span all age ranges. LWBC serves groups statewide and beyond, but our focus is on local youth and families. LWBC serves over 5,000 guests annually.
lwbc.com
Wheels for Winners
Giving kids the opportunity to earn a bike through community service opportunities
wheelsforwinners.org
Wisconsin K9 SOS Search & Rescue
Wisconsin K9 SOS Search and Rescue, Inc. was formed in 2005 in response to the need for trained search dog teams in Wisconsin that locate lost persons, assist in body detection on land, water, ice, burned buildings, and to provide assistance at disaster scenes. K9 SOS is dedicated to providing a professional and voluntary response to calls for aid.
wik9sos.org
World of Change Leaders Inc.
We challenge young people (elementary to college) to make a difference in their 'world' – their sphere of influence. We do this with a 100 hour leadership and service learning class for high school and college students, and a one room school house model, trickle down leadership summer camp.
www.worldofchangeleaders.com

Young Life – Badger Metro
We are a youth mentorship organization that strives to provide caring adult leaders in the lives of adolescents to introduce them to Jesus Christ and help them grow in their faith.
badger.younglife.org
Zeteo Community Home
To serve women who have been sexually exploited by providing long-term housing, holistic care, and a supportive community where they are free to dream and thrive
www.zeteocommunity.org
Give Online
Make Your Quarterly Contribution
If you are unable to attend, the group still depend on your donation commitment to the selected charity. Please be sure to make your contribution by sending a check with another member to the meeting, or mailing a check immediately after the meeting. You can also make a payment to the selected charity through our Community Purse Giving Fund at the National Christian Foundation by clicking the button below.
*Please note: We request that a $3.00 handling fee be added for online credit card donations ($103).
For account transfer donations, there is no fee.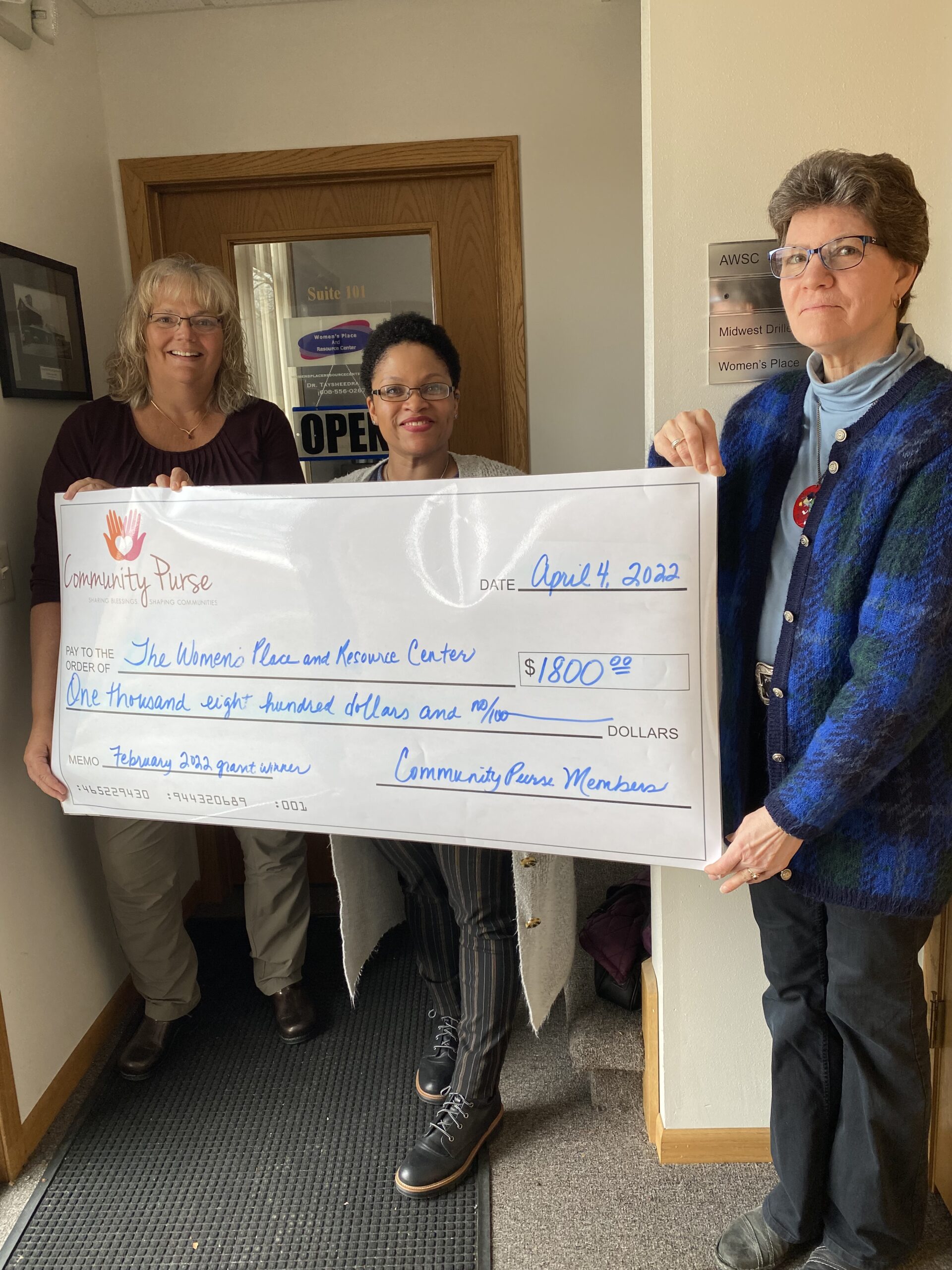 Dane County, WI
Photo Gallery
Left: The Women's Place and Resource Center 
was our February 2022 Grant Winner!