Welcome
Lake County Chapter
Upcoming Meetings:
We meet quarterly on Wednesday evenings in 2023:
February 7th

May 9th

August 8th

November 14th
Please join us for our upcoming meeting
on May 9th, 2023.

Fellowship: 6:00-6:30pm
Meeting: 6:30-7:30pm
Location: Mickey Finn's Brewery in Libertyville
Guests are welcome to attend the meeting. If they would like to vote, they will need to fill out a commitment form prior to or at the beginning of the meeting.
100 Club of Chicago
Providing for families of first responders
www.100clubchicago.org
---
Adelante Center for Entrepreneurship
Waukegan
Creating wealth and jobs in communities with economic challenges.
www.adelantecenter.org
---
Affirm Leadership Christian Academy
Waukegan

All girls leadership academy that provides a STEAM and Architecture education centered on Christian values to African-American and Hispanic girls in Preschool through Eighth Grade.
---
Arden Shore Child & Family Services
Waukegan
Rebuilding children's lives in a caring community
www.ardenshore.com
---
Art Impact Project
Lake Forest
Enhancing emotional wellness through creative expression
www.artimpactproject.org
---
A Safe Place
Zion
Domestic violence aid
www.asafeplaceforhelp.org
---
Aspire
Making our communities better by redefining what is possible for people with disabilities
aspirechicago.com

---
Beacon Place
Waukegan
Feeding and education of children
www.beacon-place.org
---
Big Brothers Big Sisters of Metropolitan Chicago
---
Camp Hope
Lake Forest
Camp for children, teens and young adults with disabilities
www.camphopeillinois.org
---
Caring4Kids Clothing
Winthrop Harbor
Helping provide children with needed clothing
http://www.c4kclothing.org/
---
CASA Lake County
---
Center for Enriched Living
Riverwoods
Adults with developmental disabilites
www.centerforenrichedliving.com
---
Chocolate Chips Association
Gurnee, IL
Empowering girls to discover the scientific world since 2003
www.ccassoc.org
---
College Bound Opportunities
Riverwoods
Mentors for economically disadvantaged students
www.cbo4success.org
---
College of Lake County Foundation
Grayslake, IL
Opening doors to educational opportunity for all of Lake County
http://www.clcillinois.edu/aboutclc/clc-foundation
---
COOL Ministries
Waukegan
Assistance for families in need, against homelessness
http://coolministries.org/
---
Curt's Cafe
Highland Park
To improve outcomes of young adults living in at-risk situation through work and life skills training
curtscafe.org
---
ElderCARE Lake County
Improving seniors' wellbeing with free services including transportation to medical appointments, grocery shopping, and friendly visits
www.eldercarelakecounty.org
---
Erie Family Health Centers
Providing high quality, affordable care to support healthier people, families and communities.
---
Family Service of Lake County
Highland Park
Mental health agency for families
www.famservice.org
---
Fellowship of Christian Athletes (FCA)
Metro Chicago
Minister to, disciple, and serve coaches and athletes in Chicago North suburbs area
metrochicagofca.org
---
Fill a Heart 4 Kids
Lake Forest
Gives unaccompanied homeless youth and foster children educational support
www.fillaheart4kids.org
---
FIT Moms
Waukegan
Partnering with single mothers
www.fitmomsillinois.org
---
Fox and Trove
Libertyville
Raising the next generation of world changers by teaching children to be kind and brave
www.foxandtrove.com
---
Frontline Street Intervention
Round Lake Beach
Keeping youth off the streets
www.frontlinestreetintervention.org
---
The Fuller Center for Housing
Lake County, IL
Building and renovating homes in partnership with families in need
www.fullerhouselakecounty.org
---
Gratitude Generation
Working to instill gratitude into future generations through education and service.
www.gratitudegeneration.org
---
Great Lakes Adaptive Sports Association (GLASA)
Lake Forest
Promotes and supports people who have physical and visual impairments through inclusive sports activities
www.glasa.org
---
---
Paws Ability Project at Our House of Hope
Libertyville
Specializing in the Rescue, Rehabilitation and Re-homing of Companion Animals
www.ourhouseofhoperescue.com
---
Raising A Reader
Offers early literacy and family engagement programs
https://sites.google.com/site/rarlakecounty
---
Reading Power
Lake Forest
Early literacy intervention for children in North Chicago and Zion
www.readingpowerinc.org
---
ReNew Communities
Lake Forest
Revitalizing under-resourced communities
www.renewcommunities.org
---
Riverside Foundation
Lincolnshire
Adults with developmental disabilities
www.riversidefoundation.net
---
Roberti Community House
Waukegan
Encouraging the best in ourselves, our neighbors, our community
www.roberticommunityhouse.org
---
Safe Families for Children
Lake County Chapter
Support for children & families in crisis
safe-families.org
---
SamaraCare
Winnetka, IL
Offering hope, healing and restoration to wholeness through professional counseling
samaracarecounseling.org
---
Special Gifts Theatre
Northbrook
Providing educational and therapeutic theatre arts programs for individuals with disabilities
specialgiftstheatre.org
---
The Sports Shed
Vernon Hills
Provide quality sports equipment to under-resourced schools and organizations
www.thesportsshed.org
---
Stepping Stones Network
Chicago

Educate communities and provide restorative care for victims of sexual exploitation
Teen Mother Choices International
Equipping the church to empower teen mothers
---
The Vision For Tomorrow Foundation
LaGrange, IL
Empowering people with low vision
visionfortomorrow.org
---
Total Link 2 Community
TotalLink2 Community is a Northbrook-based nonprofit that helps individuals living with intellectual and developmental disabilities ages 18 years or older and their families in the north suburbs of Chicago. www.totallink2.org
---
Upscale Rummage & Furniture Warehouse
Libertyville
Re-sale shop that gives all proceeds to local non-profits
upscalerummage.org
---
Waukegan to College
Waukegan
Tutoring and mentoring of youth
www.waukegantocollege.org
---
Willow House
Riverwoods
Family grief support
www.willowhouse.org
---
Words on Wheels
Gurnee
Impacting young children through the power of words
www.wordsonwheels.org
---
Youthage Culinary Program, Inc
Our mission is to educate and empower children with a vast knowledge of culinary arts.
www.youthageculinary.com
---
Youth Build Lake County
North Chicago
Help low income adults complete their education
www.youthbuildlakecounty.org
---
Youth Conservation Corps
Waukegan
Mentor at risk youth
www.youthconservationcorps.org
---
Youth & Family Counseling
Libertyville
Professional counseling services
counselingforall.org
---
Zacharias' Sexual Abuse Center
Gurnee
Programs for survivors of sexual abuse
www.zcenter.org
2022
2021
2020
2019
Katibug Kids
Riverside Foundation
Fellowship of Christian Athletes
Willow House
2018
Stepping Stones Network
Waukegan to College
Informed Choices
Midwest Veterans Closet
2017
Fox and Trove
LEAD
Equestrian Connection
FIT Moms
2016
Lauri S. Bauer Foundation
Frontline Street Intervention
Mothers Trust Foundation
Camp Hope
2015
Beacon Place
Youth and Family Counseling
The Center for Enriched Living
The Lake County Haven
Give Online
Make Your Quarterly Contribution
If you are unable to attend, the group still depend on your donation commitment to the selected charity. Please be sure to make your contribution by sending a check with another member to the meeting, or mailing a check immediately after the meeting. You can also make a payment to the selected charity through our Community Purse Giving Fund at the National Christian Foundation by clicking the button below.
*Please note: We request that a $3.00 handling fee be added for online credit card donations ($103).
For account transfer donations, there is no fee.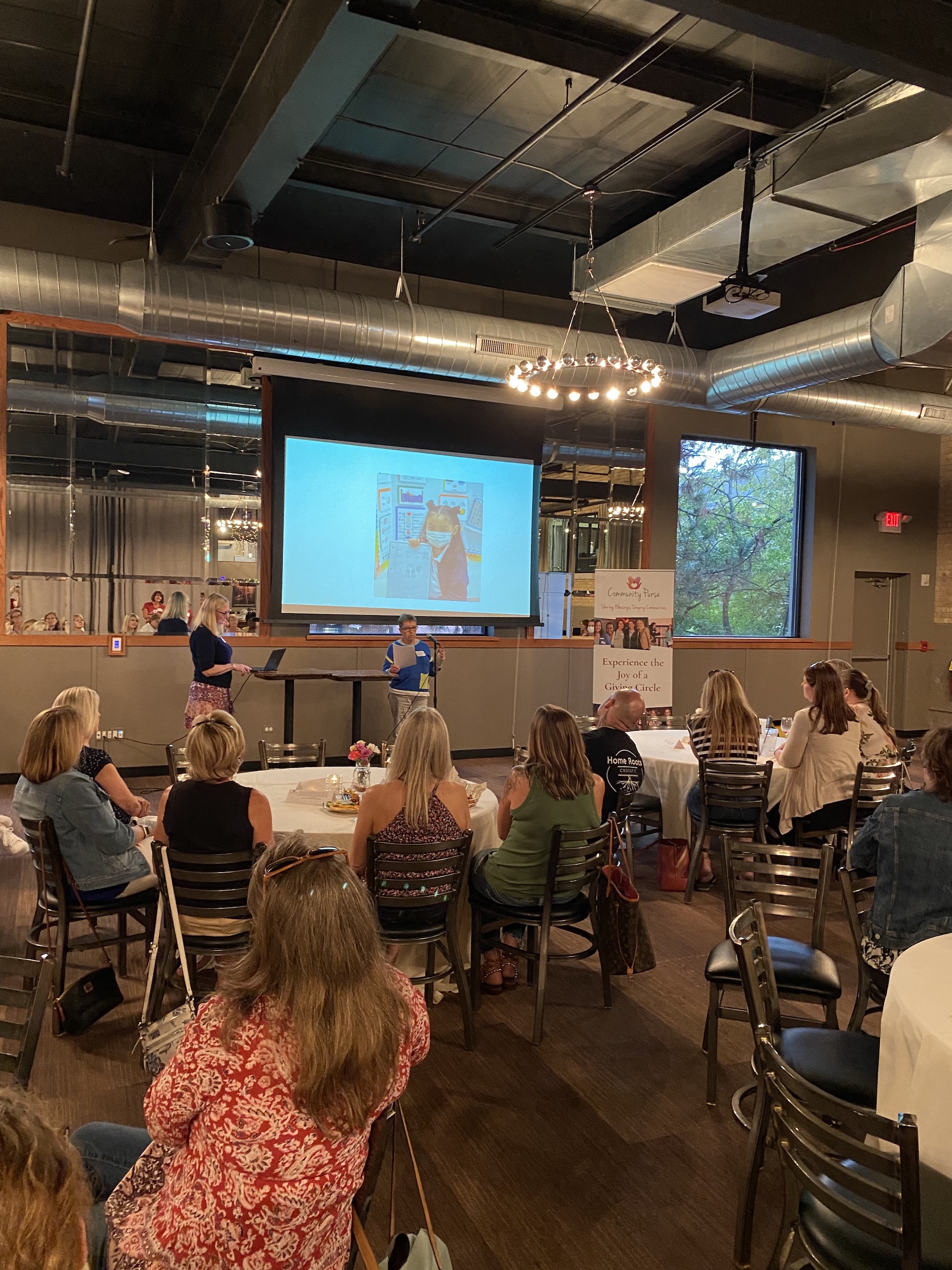 Gallery 
Photo Gallery
Check out photos from our recent meetings!